"Move up, move up!"
The men got up from their prone positions and immediately began to sprint. Bullets were still flying, much to their master's indifference. There was a ripple across the sky. And the woman was in the midst of turning into the giant metal titan. The men dived behind him before it began. Tearing apart everything. Metallic cords whipping about and lashing out towards Alaecyn in overwhelming numbers. One of his men drops to the ground with his head rolling as soon as he hits the ground.
.
"He vows to endure to be burned, to be bound, to be beaten, and to be killed by the sword." The gladiator's oath as cited by Petronius (Satyricon, 117).
.
He moves forward.
The
CRACK
of a whip. Oddly like unto a gunshot. Striking his flesh vice his own men. They didn't even look back. The didn't even stop as the blast door was ripped apart in front of them. They merely escaped inside.
Soft at first, he moved his shroud in front of him, the cape-like mass of flesh sprouting from his back oriented in front of him. And with a thought the vampirific cloak hardened until it became nigh-impenetrable via all means but his vein. Bullets scratched and lodged into other parts of flesh, failing to penetrate but making marks upon his body. Force from the titan's strikes transmitted time and time again.
Yet there he stood. Like a Roman Centurion. His cape held like a shield. Strength and skill combining in tandem as he actively maneuvered.
CRACK CRACK CRACK CRACK CRACK
With some strikes, he was driven into the ground like a hammer struck by a nail. With others, his clawed talons gave way into the dirt. Others he opted to duck. One flip as he jumped with an agility that no creature his size should have. And another tendril struck him mid-air. A direct impact to the shield rather a mitigated parry, force was transmitted appropriately. And the Insatiable flew clear over the house as he was soon launched.
A tree breaks in half, slowing him down until he bounces against the dirt ground like a broken winged bird before coming to a scraping halt.
Without the aid his limbs, Septimus levitates into the air to re-orient himself upright and then allows his feet to touch the ground. His Cape softens to cloth-like proportions and is allow to trail him once more. The Reaper speaks in his head and he doesn't need any reminder at all of what it was he came here for. He was not here for Revolt. He was not hear for Alaecyn. Nor was he truly here for Reaper's favor.
He was here for the source.
Flesh began to warp. The many mouthes that dotted Septimus' body soon were accompanied by an enumerable eyes. And soon many other appendages a hundred tiny little claws and wings -- before his body came apart entirely in the form of a swarm of bats --echolocating
screeches
filling into the air as the swarm went rocketing into the sky briefly consuming the moon for a singular moment as they appeared over the house. Each and every one pouring into the entrance of the house and then the facility, disappearing inside within moments.
Each and every one fly into one another as they formed a pile of flesh, spinning briefly around the mass until the Insatiable reformed once again. He looked about and saw what is left of his men. His eyes speak of expectation.
"Status report."
He says, speaking in Romanian.
"The dimension tide is down sir. We need to extract you differently. We are already having teams make preparations. Sunrise is still far off."
The man replies, looking at his watch for a moment and specifying how many hours. Before then he walks the lord over to a pile of rubble.
"And here. Is the source. Shadowcat is inside as well."
He mentions again. Septimus makes a motion for them all to move.
"Stand back."
No explosive demolition would be necessary.
The muffled noise of shifting was heard from the other side of the rubble. A brief shaking in the ground as heavy piles of stone and concrete were tossed aside and set down. A few pebbles shifted as first as he grew nearer. And then a few trickles of of light poured in. Before briefly, something large obstructed it. Wreathing the room in darkness for a moment.
Before his claws came through and ripped away the rubble. Then came again, and ripped away the doorway. And then finally came through once more and ripped away the walls. So that his form was able to easily fit in. Along all of his men. Each one shining flashlights as they scanned the dimly lit building. There guns pointed at a woman and a weeping for a moment before.
The Insatiable slinks forward on all fours. Eyes begin to glow. His entire hand wrapping around shadowcat's waist as he picks her up and seperates her for the child regardless of his will.
"Shhhh."
As the creature slinks out of the dark, he hushes the child. And his voice which strikes fear into the hearts of men now did the opposite. It made the boy absent of any fear. Of any feeling that told him that "something was wrong." He lacked the compulsion now to flee. To move. To shrink away.
A vague concept permeated his mind. As though he were in the presence of his mother. One that could described as a sense that everything was going to be okay. As he stared into the creature's blackened eyes, he would not be able to recount what it was he saw. But it gave the voice more power. The voice had robbed him of any fear and any motivation to resist at all. And they compelled the boy to do as the vampire as the vampire commanded.
.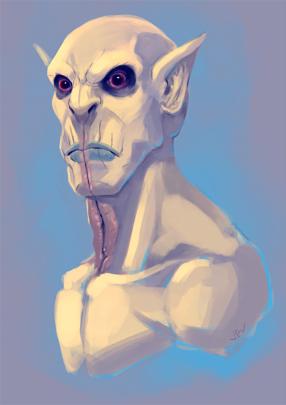 .
"Close your eyes."
And so the child did. Tears trickling down his cheeks still wet and now drying.
"Lay down."
And so he did. And as the boy laid down, eyes closed. The Insatiable loomed over him. His claws disappeared and left him with but a man's fingers. An open held back and soon turned into a fist.
There shall be no pain.
A sound like unto
thunder
shook the ground for a dozens of feet, overpowering the sickening crunch of the child's frail bones before the insatiable's fist. In his eyes, the death of the child was as ugly as it was instant. The boy would feel nothing as all manner of sensory process was instantly annihilated. The Hunter withdrew his hand. Blood and pieces of the boy's head dropping
His men watched stoically as he swipped his hand, causing pieces to fly off. And then he licked the remaining blood of his knuckles. Allowing the rest to flow from the space where his head was as he turned around and walked away.
"Find your own way out of here. I will meet you at the rendez-vous point shortly. There is a monster[ out there which I must attend to first."
A singular swords sits in the middle of the battle ground. On marred by stray rounds, explosions and swinging tentacles. A sword larger than most men. Fit for a giant's hands.
Around the sword in the ground a pile of mist swirls and coalesces. And from the mist a hand forms around the blade. And soon the rest of the body accompanies. A tall gaunt thing with eyes all over it's body and a mass of tendrils coming from it's upper back. It's hand is a sword too great for most men to wield. But it suited him just right.
.
.
The sword is plucked from the ground. And held with two hands squarely in front of his face with the tip pointed to the air. Not a spec of rust tainted the shining
Bøddel
Ceremonial Greatsword
. Bonds supernaturally reinforced with each consecutive kill of all things
mighty.
If one peered at the flat of the blade -- why it would be able to glean their own reflection.
He turned the blade. The edge now faced offensively. And held the sword lowered into a fool's guard stance.