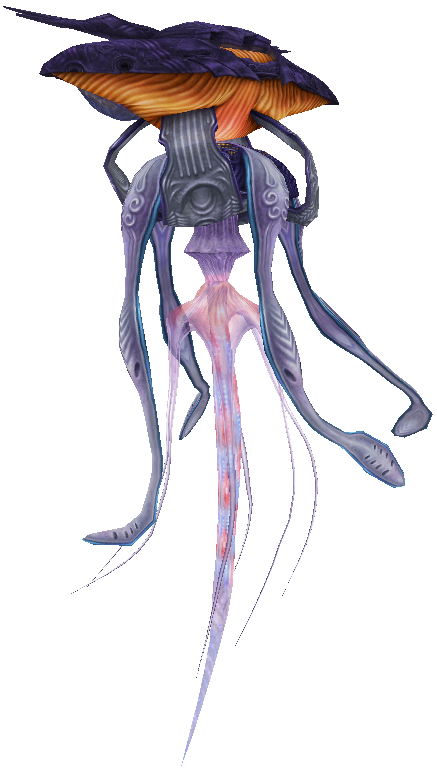 The Merlucent Race can take only a small variety of shapes, however, the various hues of their skin can be quiet numerous. Ranging from midnight black to borderline florescent. The race of originally aquatic aliens evolved themselves to genetically modify their own bodies to inevitably force themselves to become amphibious. They are a race of gathering people, obsessed with the finding and researching of anything and everything they can find in the known universe. The only thing they have no interest in at all? Primitives, in fact, they have some strict rules among their own stopping them from interacting with Primitives unless it deemed necessary to preserve a unique specimen.
Having grown and developed themselves from a culture from a mostly water based planet [97% Water 3% Land] these Aliens have a very powerful presence when in water. Do not allow this to fool you out of the water. In the water they are capable of causes a large-spread attack of electricity varying in strength based on the nature and age of the individual. On land this ability is rather weakened and only allows them to have an electric touch. This is coupled with nematocysts they leave on the individual who was unfortunate enough to make contact with them can be rather fatal if untreated. Thankfully, however, they often wear outfits designed to keep other species unharmed by these unnaturally aggressive traits.
Merlucent's unlike most intelligent life, do not seem to have a limit to how old they can be. The only real way for one to die is for it to be killed by another creature. This is relatively easy if they are not being encountered in close-quarters as naturally speaking they have no defense besides their electric touch and poisonous nemotocysts. In fact, they have very weak physical forms being held together by a more or less gelatinous like exterior. Extremely fragile creatures naturally, any piercing attack can easily take them down if they aren't careful. As a result most have adapted to wearing some kind of armor designed to help them avoid such attacks. However, a well placed bludgeoning attack is still effective if aimed at the dome shape attached to their figure. As this is the weak-spot on all of the Merlucents.
----------
They invented a whole line of artificial intelligence in order to aid them with the various tasks and activities they themselves struggle to do especially on land with their mostly water-adapted bodies. The first and most widespread among their kind would be the. . .
Medi-Bots:
Medi-Bots are standard issue bots added to any ship or structure constructed under the Merlucent domain. The reason is simple really, space is a dangerous place without considering the various alien species you may encounter. Of course you need a bot specifically to keep everyone healed up on your space-faring vessel. It comes equipped with a needle that is filled with repair-nano-bots designed to repair the flesh of the individual injected with the liquid-like plasma substance. To avoid Nano-Bots dying inside of the patient they are removed via the natural urination system.
They are equipped with a nano-laser capable of cutting into standard issue star-suits, however, it is incapable of penetrating Star-Metal.
Repair/Build Bot:
The standard issue Repair and Build Bot is not nearly as commonplace as the Medi Bot. Typically reserving its seat on Flag and Support ships, this bot has a multi-functional repair tool that operates with a combination of nano-bot tech and good ole fashion welding. Using super-heated nano-bots to 'plaster mold' missing plates and parts throughout the ships interior and exterior. Primary purpose is maintenance of vessel while crew are in cryosleep.
Hard-light Protector Bot:
The Protector Class Bot, a robot designed by the Merlucent to aid themselves in the event of hostile encounters with entities from extraterrestrial threats. It uses a hyper-advanced method of bending light to infuse it with physical properties. Giving light a tangible existence, enabling the quick creation of small creations able to absorb most primitive weaponry methods of damage. This 'hard-light' as it was dubbed, is capable of absorbing most kinetic weapons and does so with extreme efficiency. However, the hard-light tech suffers in that it struggles to hold together against non-kinetic attacks. This includes anything similar to a laser, light especially being effective at destroying the hard-light. Hard-light Bots main purpose is to shield other bots and the aliens themselves from being harmed by Kinetic attacks typically used by inferior races who dare fight against the Merlucent.
Combat Drone M-1A:
The Combat Drone M-1A, or M-1A for short, is a robot designed to battle the foes of the Merlucent in their stead, it is rarely deployed and numbers kept to a minimal in active use to prevent Merlucent's with ill intentions from abusing this high-tech combat drone. The drone is equipped with a high-energy proton L.A.S.E.R cannon enabling it to blast through most common metals found. This laser reaches temperatures exceeding 7,500 degrees Fahrenheit (Roughly 4148 Celsius), making quick work of most objects before it. It can fire in three round bursts before needing to cool the weapon. Equipped with two of these weapons it rarely struggles to alternate the guns. The cooldown period between shots of three is five minutes of cooling. However, this is not viewed as a draw back by the Merlucent as, for the most part nothing survives the first shot. This combined with the heat-sensor and heartbeat scanner enables the drone to fire even through structures at intended targets.
Defense Drone M-1D:
The second of model of the Protector Class, this drone is programmed with the intention of keeping Merlucent citizens safe on their home territories. Armed with a hard-light shield acting as a kind of riot shield for the bot and a chain-fire Phase Gun, the phase gun acts as more of a stunning weapon than a lethal weapon. Sending a paralyzing amount of endo-electric energy into the target effectively cutting off electric signals being sent through their body. Disabling fine motor functions of the individual affected by the phase gun. It is less effective on targets with natural electric abilities. Notably, the Merlucent's themselves are on this list.
]----------
Space-Metals and a brief description of these metals.
Star-Metal
: A rather commonly used metal in the space-age civilization refereed to as the Merlucent's is called Star-Metal the reason? Simple, a Star-Forge or a massive construct in space build nearby to a star, must be used to harvest the power of said star in order to melt down and process this rather strong metal. It is ideal for making ships as it has a lightweight and yet highly durable composition. This combined with an extreme tolerance for heat makes it rather the perfect metal for landing ships. It is mostly found in Asteroid fields and is heavily coveted by the Merlucents.
Kryonic
: This is a more rare metal found in the Nebula's surrounding the Merlucent homeworld, this metal is perfect for the designs of the Merlucent's cryo-sleep stasis pods. The metal has a strange property of naturally enhancing the effects of the cold and when put into extreme levels of frost are capable of having an odd healing property. This healing property being ineffective for anything beyond the most basic of life-maintaining. Making it exactly ideal for long-term cryo-sleep as it prevents the decay of the cells in ones body.
Star-Suits:
Model-1-2:
This model of space-suit is designed to resist most kinetic driven attacks, namely things fired from a gun. The suit is a fiber-weave of Star-Metal enabling it to block most bullets, however, this does come with a distinct weakness to cutting attacks. Seeing as the fiber-weave makes it nigh impossible for it to prevent something from simply cutting them down. Making blade attacks extremely efficient on any Merlucent in such a suit. [No pics for space-suits cause I'm dissatisfied with what I find on the web and am not an artist.]
Model-2-2:
This model is more for surviving extreme temperatures and during Cryosleep. Simply Kryonic fiber-weave uniform standard for non-combat personnel.
Spacecrafts:
Explorer Model-2E:
This model was designed with the intention of long-range exploration for crews and individuals. Later as the Merlucent populace had explored a vast area and was deeply comfortable with the inhabited space neighboring their controlled star-space, they decided to repurposed this spacecraft utilized more commonly as a kind of quick escape shuttle than an actual space-faring vessel. The latest variants of this vessel come standard equipped with light bending technology that enables the vessel to enter a 'cloaked' state. Simply making detecting the vessel with natural eyesight alone more difficult.
Armaments:
This spacecraft is not combat ready and therefore does not have weapons.