(WIP, I think I already filled out all the parts that would need to be judged by you.)
Full Name: Eric Torres
Age: 27
Gender: Male
Race: Human
Homeworld: Landfall
Appearance:
Eric has been in his fair share of battles. One even cost him his legs knee down and his arms, shoulder down. However, thanks to the advancement of an experimental soldier program. Eric was fitted with new mechanical arms and legs. Along with his new limbs, Eric was fitted with a small, advanced computer in his brain that allows him to control his mech and communicate with the AI within wherever he is. He has also started to wear a small thruster pack to help him navigate a battlefield even quicker. It allows him to jump higher and slide farther. His new legs absorb the impact from higher falls than normal legs do.
Weapons:
A plasma assault rifle
Gravity Spikes(stab into a surface and create a small explosion/shockwave)
And a knife
Affiliation:
PAC-AMP: Private Army Corps of Armored Mechanized Platforms
PAC-AMP is a private army for hire. They specialize in using AMPs in every scenario of combat. Each pilot is unique and so is their mech. Some pilots and their mechs have specialties like anti-mech warfare. Their priority in combat is neutralizing enemy AMPs as fast as possible. Also, PAC-AMP works mainly for Republia as they have provided the largest checks but on occasion a couple of PAC-AMP pilots have been known to take contracts for other governments like the Soviets.
Skills:
Eric is an good pilot and even better grunt. He can just as easily get out of his mech and fight as he can inside it. Rumors within the Republian military speculate that he has defeated a Soviet mech while on foot.
Personality:
Biography:
Misc:
Character Themes:
A.M.P Sheet
Mech Name: Jaëger
Mech Specialty:
Hunting other mechs, maiming (removing limbs, crushing or removing cockpits) mechs
Appearance:
Extra armor on the head and tail of the mech to help protect parts exposed to more damage.
Weapons: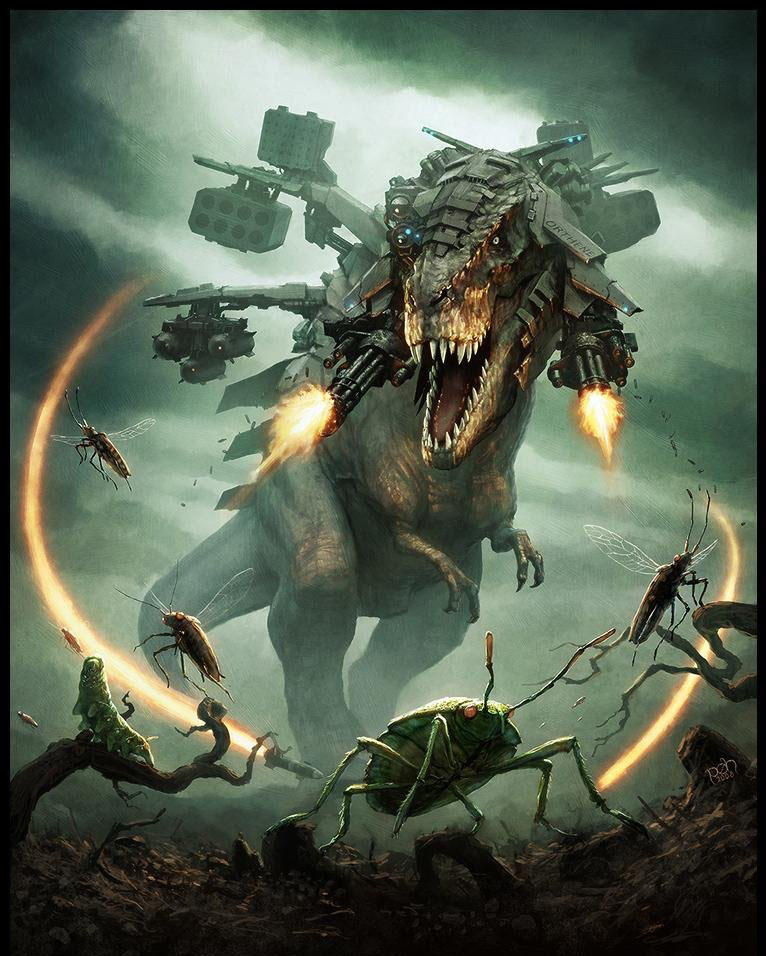 The claws, mouth, and tail can also be used as melee weapons.
Special Attributes:
Moves very animalistically and biologically. It can even be controlled by Eric when he is not in the cockpit. A wireless neural link and an on board AI allow both Eric and Jaëger to fight independently.